In a galaxy far, far away. . . .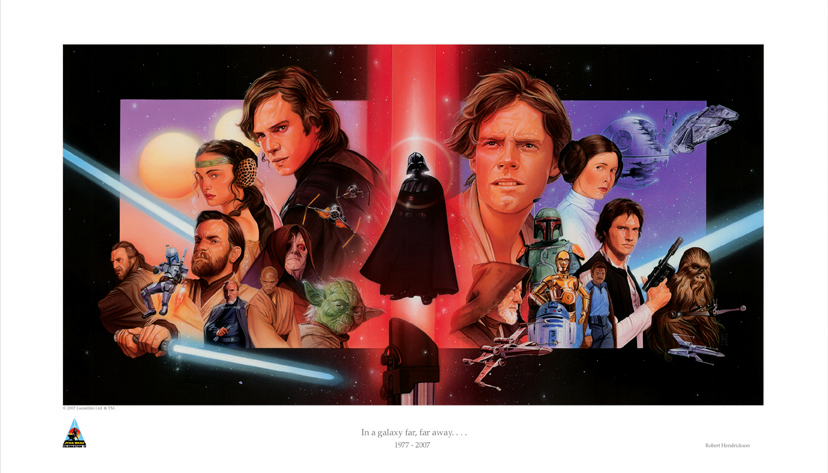 Star Wars Celebration IV Limited Edition Artwork
*UPDATE* June 20, 2007

If you missed Celebration IV you have one last chance to pick up my CIV limited edition print. StarWarsShop.com has made the last few remaining prints available for purchase. Quantities are very limited and this will be your last chance to get one of these collectible prints. Let me know if you pick one up.

-Robert

"In a galaxy far, far away..." Star Wars Celebration IV Limited Edition Print celebrating 30 years of Star Wars. Available exclusively at Celebration IV in Los Angeles, CA. Limited to an edition size of 250 hand signed and numbered 16"x28" lithographs available for the price of $40.00. I am taking requests to reserve prints prior to the show. These prints will only be sold at Celebration IV from May 24-28 2007. Early reservers will receive the lower number prints on a first come first serve basis. If you would like to reserve a print or have any questions, you can contact me directly at hendricksondesign@earthlink.net , please put "Star Wars Print" as the subject.

Also, I will be doing a limited number of remarques (one of a kind hand drawn sketch's on prints) of characters from the saga. There will only be one sketch of each character, only one Luke, one Vader and so on. These will be available for the price of $65.00. If you would like to be guaranteed a certain character or have a request please email me to have one set aside for you. Again these will be extremely limited. More details on the remarqued editions and other news will be coming soon. I look forward to seeing everyone in Los Angeles.

May 08, 2007

The response to taking reserve orders has been great. Thank you to all that have pre-ordered and I will have your prints waiting for you. If you are still interested in a "remarqued" edition contact me as soon as possible. More then half of the planned remarques have been reserved and I only have 5-6 at the most left. If you want one contact me right away because there will be none available if you wait until the show.

*Update* May 18, 2007

Important information- I will be taking reserve orders until midnight Tuesday, May 22, 2007. After that you can come by my booth at CIV to purchase a print.

All of my remarqued editions have been reserved. However you may be able to get one by coming by my booth Sunday morning of the show. I will be putting any unpicked up remarqued editions on the floor for a first come first serve basis. These will be available for $65.00.

Also as an added bonus, all purchasers of my print will receive a special signed promotional card of an all new piece showcasing Yoda. A preview of the artwork is displayed below. This card will only be made available from me at Celebration IV at my booth. Thanks and I'll see everyone in Los Angeles!

-Robert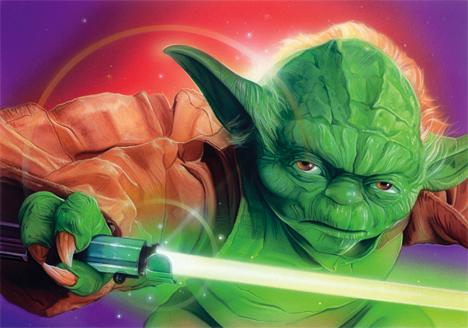 Welcome to Robert Hendrickson Illustration
Click here to view my all new website!
My all new website has been opened. You can access it at http://www.roberthendrickson.net or by clicking the above link.

Thank you to everyone who purchased my CIV print, It was great to see you all in Los Angeles.

-Robert
6/18/07